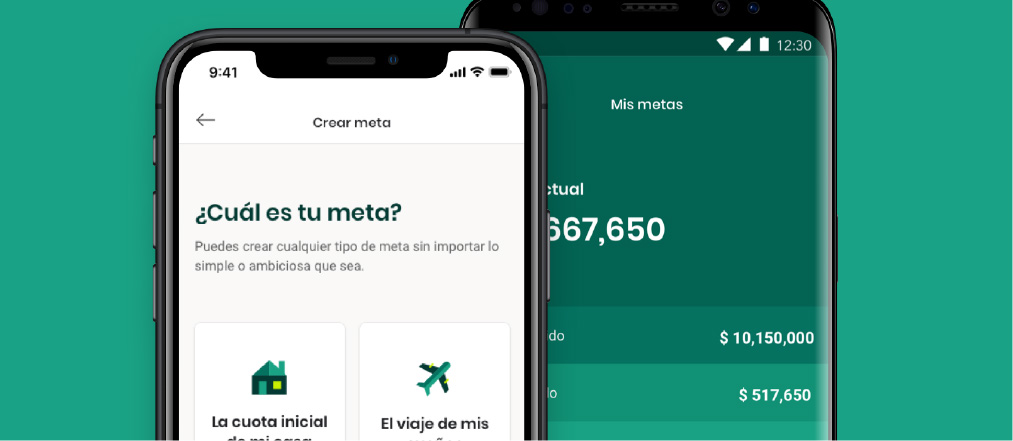 Tyba is a digital financial advisor that wants to grant access to investments at low rates to people that don't usually do it because it looks too complex.
An app that simplifies the process, avoiding face to face procedures, paperwork and additional expenses.
This solution comes from the concept "if you don't find a way to make money while you sleep, you will work until you die". Therefore, Tyba grants access to optimal portfolios from COP 100, 000, doesn't have any transactional fees and educates people while they are investing.
January 2019:

MVP 1 team begins.

June 2019:

MVP 2 team begins.

July 2019:

MVP 1 is completed.

September 2019:

Regulatory approval and launching
How did the business idea start? What is the opportunity or problem that you found out?
The idea was born from the people's need to be able to reach their financial goals on their own. The lack of access, high rates and unawareness about investments creates a vicious cycle where people let their money on savings accounts, losing money concerning inflation.
We found five difficulties:
You could only invest with an appropriate portfolio at high rates.

The process to access investments was dull.

There was a general unawareness about investments benefits and a lack of trust regarding the system.

You couldn't access any advising for low rates

Fees were "hidden"
The opportunity was to solve these items so that any person could invest with the same quality that a millionaire does.
What is your target market and how are they benefit from Tyba?
Tyba is addressed to people that have +US$ 5K and want to achieve some goal. In general, they are professionals that had been able to reach some amount on savings, but they have this money on their bank accounts because they don't know how to make it profitable.
They are usually people who don't have time to invest in face to face procedures.
The benefits they get through Tyba are: Access from low rates (from COP 100k), personalised advising, simple and totally digital experience, financial education and transparency in fees.
"We aim to be the first, most relevant digital financial business in all Colombia. Our goal is to reach to 100,000 clients by tear 2022"
Which have been the most challenging moments in this creative process and what have you learnt?
There had been many challenging moments. To start, we had a challenging launching date with a regulatory feasibility that wasn't under our control. Likewise, recruiting talent was also a big challenge, as a new business in the country. Finally, investors look for results at short-terms and, at the beginning, we were on full of uncertainty period.
From these situations we gained many knowledges:
Resilience, you can always find solutions.

Don't be afraid of pivoting.

Owner mentality, you must act quickly, it is very easy to delay making decisions.
How is the team behind Tyba? What are their strengths and peculiarities?
We are 24 persons in Tyba that come from different profiles and nationalities, but we share a same passion: to be able to help people to reach their goals. We focus on design and technology in order to offer stunning experiences.
What do you aim to? What are the plans and goals to reach in the mid-term?
Our aim is to be the first and most relevant digital financial business of Colombia. Our goal is to reach 100, 000 clients by year 2022. And it is in our plans to launch voluntary pensions in December 2019 and add more fund houses in 2020.
What advise could you give to any other FinTech's that are just starting?
Building a stunning experience requires technology, a different organization and a unique culture.
---